Join Our Small Group Coaching Program
Jump Start Your Next Chapter
This program – Design Your New Life – will:
Help you create the vision, clarity, and confidence to thrive in your new life.
Explore three alternative visions of your future aligned with your deepest values.
Test and sharpen your ideas through Life Design interviews and insights from fellow participants.
Build a roadmap of your next steps.
The six-session group coaching process, with Joe Casey, a certified Designing Your Life Coach, unfolds in three phases using the Life Design tools created by Bill Burnett and Dave Evans, authors of Designing Your Life:
---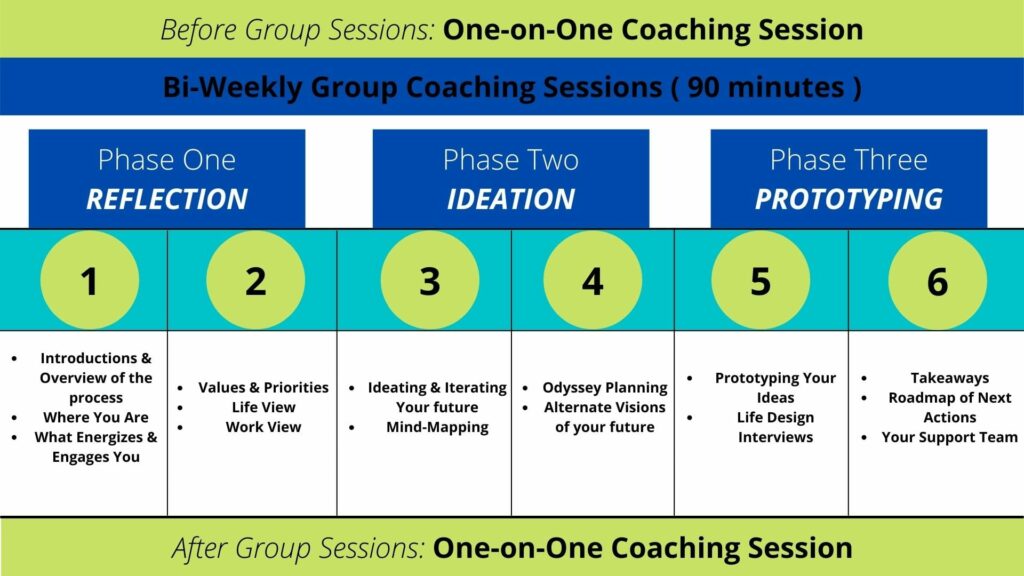 ---
The process includes:
Six 90-minute highly interactive small group sessions via Zoom 
Readings and design exercises between sessions
A copy of Designing Your Life: How to Build a Well-Lived, Joyful Life by Bill Burnett & Dave Evans
Two One-on-One Coaching Sessions with Joe Casey
Questions?
Schedule a call with Joe Casey — or reach out to [email protected]
Limited to a maximum of 10 participants
Begins on
October 22nd
Start building your future.
Register Today
–>
Cost: $975
Early bird rate: $675 if you register by September 23, 2021
You'll receive an invoice payable by personal check, EFT, or PayPal before the start of the program.
Your Coach – Joe Casey
Joe's an executive coach who also helps people create meaningful lives after their primary careers come to an end. Traditionally, we've called that retirement. But today with "retirements" often lasting 20 to 30 years or more, it's an opportunity to pivot to a new life beyond the world of full-time work.
As a Certified Designing Your Life® coach, Joe is trained to help people discover a new direction, one that offers new purpose and greater meaning. He helps people who are retiring – but aren't done yet – figure out What's Next?
It's not theoretical for Joe. He's done this himself, becoming a coach 12 years ago after a 26-year career at Merrill Lynch, where he was Senior Vice President and Head of HR for Global Markets and Investment Banking. Last fall, Business Insider named Joe as one of 23 innovative coaches who are making a difference.