Make Next Year Your Best Year
Design The Habits You Want
What If You Do One or More of These Next Year?
You are what you repeatedly do.
– Aristotle
Resolutions?
How's that been working for you?
There's a better way.
I know because I've used it personally for 10 years.
And as a Certified Tiny Habits Coach I can help you leverage the science behind behavior design and habit formation in BJ Fogg's Tiny Habits Method.
Best of all, it makes change easy – and fun!
BJ Fogg, PhD, and founder of the Behavior Design Lab at Stanford has created a powerful method to build new habits and design the behaviors you want.
How it works
Through three group coaching sessions you will
---
Tell us your story
Clarify your aspirations and the new habits you want to build in the New Year
Define the scope
Use Behavior Design tools to create the specific behaviors you want – and then start small (really small!)
Design
Design three Tiny Habits to get you moving forward in 2024
Schedule
Fine tune the right anchor moments, timing and location
Learn
Learn how Positive Emotion can wire in the new habits faster
Troubleshoot
Troubleshoot issues as they arise with check-ins via email or phone calls between sessions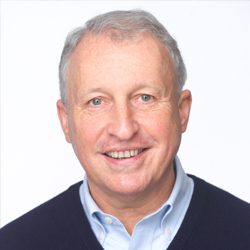 Your Coach
Joe Casey
Joe Casey is an executive coach who helps people design new, fulfilling lives after they graduate from the world of full-time work. He's the author of Win the Retirement Game: Outsmart the 9 Forces Trying to Steal Your Joy. Joe hosts The Retirement Wisdom Podcast interviewing interesting people on thriving in later life.
After using BJ Fogg's Tiny Habits Method© personally for many years, Joe became a Certified Tiny Habits Coach to help his clients design life-changing habits and behaviors.
Before becoming a coach, Joe worked 26 years at Merrill Lynch, where he was Senior Vice President, Head of HR for Global Markets and Investment Banking. Joe has earned Master's degrees from the University of Southern California in Gerontology (at age 60), the University of Pennsylvania, and Middlesex University (UK), a BA in Psychology from the University of Massachusetts at Amherst, and his coaching certification from Columbia University. As a runner, Joe has run 13 marathons, including Philadelphia, San Francisco, and qualified for the Boston Marathon.